Villa Prostějov
Pod Kosířem 326/54, 796 01 Prostějov, Česko
Hana Matulová
Project Manager
+420 605 060 000
oportys@oportys.com
Opportunity description
In exclusive representation of the owner we offer renovated, first-republic villa in "Hlouchel" biocorridor in Prostějov with a total area of ​​730 m². The villa has undergone a comprehensive renovation, which was completed last year, with the emphasis on preserving the original layout from the time of construction. There is a detailed photo documentation of the entire reconstruction with project documentation.
It is a three-storey solitary building with the possibility of extending into the attic (studio, other rooms). In the annex there is ingeniously hidden technological background, garage for up to 6 cars and terrace on the roof of this annex. The house has a basement with relaxation zone, a toilet, a laundry room, a technical room with technological background and garden-view with a preparation for sauna, shower and a relaxation area.
On the ground floor there is an entrance hall with a dominant staircase linking all floors of the house from the basement to the attic. Almost the whole ground floor is designed as one space, nicely separated from the kitchen (kitchen of "Hanák" brand with Siemens appliances), a dining room and a living room (fireplace with two windows) with French windows on the terrace. The entrance to the bathrooms is a separate corridor with the possibility of storage space. The first bathroom consists of a corner bath, two sinks and the second bathroom consists of a toilet, bidet, sink and shower.
On the 1st floor there are 3 spacious rooms, a bathroom with a massage bath, two wash basins, a toilet and a bidet.
The villa is connected to all utilities, the whole house has underfloor heating (heat source: heat pumps, air-water). The entire villa features vinyl flooring, exterior aluminum blinds with electric controls, alarm and on the ground floor there is air conditioning. Around the villa is a newly planted ornamental garden with preparation for a roofed garden gazebo, access to the garden is possible from the terrace of the house. In the garden of the house there is a well, which is connected with garden irrigation (oriented to the south side) and sanitary facilities in the house. The house is located in a residential area with similar structures nearby, close to the sought-after green area of ​​the "Hlouchela" biocorridor.
Energy class: B
Tisk nabídky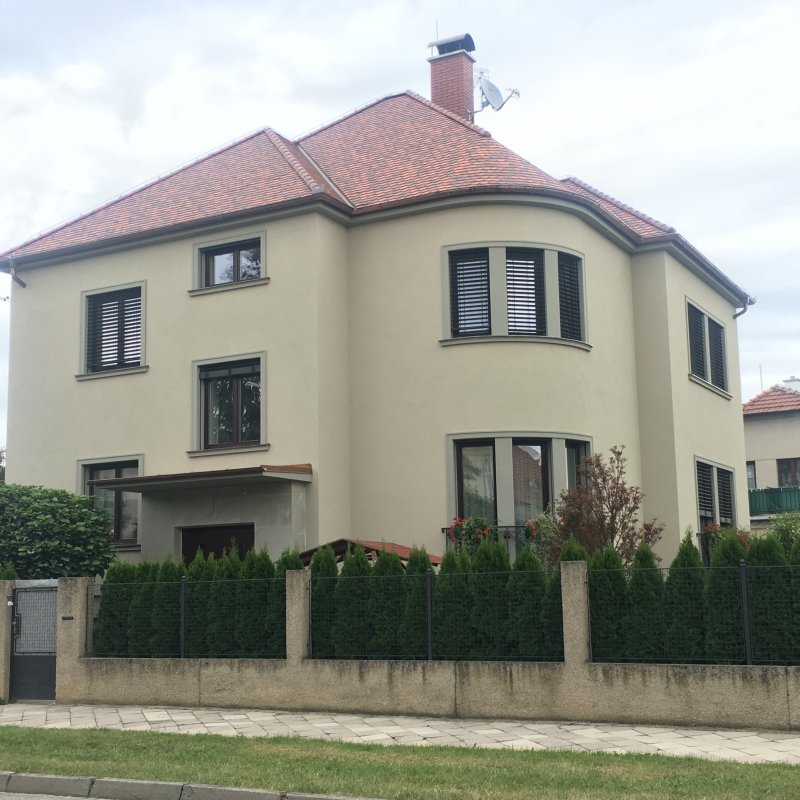 Are you looking for or offering a specific opportunity?